BOOKNMEET FEATURES
Scheduling automation you and your invitees will actually enjoy.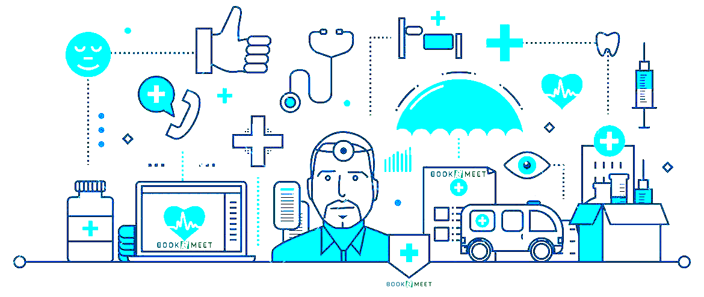 VIDEO CONSULTATION
Consult patients remotely through video consultation & do real-time visual and audio patient assessment. it's a friction-less approach combining e-consult, e-prescription, e-payment along with secure Video Consultation. BOOKNMEET Virtual Consultation module possess the capability of handling large segment of specialised medical segment with follow-up consultation also for someone who needs advice.
PRESCRIPTION
Generate your own custom prescriptions online. it is synced with appointment and patient info. store generated prescription and access effortlessly. An integrated Prescription tool with choices of Generic and Brands from a vast entries of 80,000 Generate Your personalised prescription and Print or send via email or WhatsApp.
INVOICE - OUR INVOICE GENERATOR SAVES YOU TIME.
Personalized invoice with consultation, services / treatment billing information. Print or Send via email. Add list of service / procedures and store it. easy to edit and tweak. work seamless with appointment to capture time and consultation details. store invoice history for all patients. You can email your invoice, download a PDF copy, or share your invoice as a link, all using our invoice engine. Get shareable and printable online invoice in one go with Itemized fees, Date,Invoice number, Name and Details of patients.
FEEDBACK
Personalised feedback system for your practice. This tool help you to bring betterment to your practice and overall staff management and Improved patient servicing. The review is privately presented to consultant by notification after each review is submitted by patient post consultation.
HEALTH PACKAGES
BOOKNMEET offer the best online visibility of listed health packages. List special price for selected health packages and specify the Insurance covered one for the preferred audience. Easy to edit and monitor the reach of the offering with better online visibility.
VACCINATION REMINDER
Get notified to follow the schedule of upcoming vaccination as per the IAP (Indian Academy of Pediatrics) Recommendations. Never miss out on Vaccination dates with personalized messages on your mobile.. Create Your Child's Vaccination Schedule with date of birth.
CLINICAL PROCEDURE SCHEDULING
Procedure Scheduling Simplified for Clinic, Poly-Clinic and Hospital. Ensure that a patient knows what to expect during clinical procedure and ensure that everything is in place for the procedure to occur.
NUTRITION PRACTICE MANAGEMENT
Business Management Platform empowering Dietitian & Nutritionist. Manage practice with ready to adapt healthcare. Get an overview of your practicing day / week / month and be more organised with a dedicated calendar along with daily reminders of practicing schedules effortlessly. You can also create recipes; invite your secretary to manage the appointment scheduling for clinic or Online, add multi-location practice and your entity logo.
BOOKNMEET QMM (QUEUE MANAGEMENT MODULE)
Improve outpatient (OP) flow at Hospitals and clinics with BOOKNMEET's QMM that enables facility to efficiently organize staff, resources and patient queues so that patients receive the right care at the right time in a comfortable, hassle-free environment. BOOKNMEET QMM has inbuilt facility to sent the SMS alerts to Patient on trigger like Queue Token generation, Prior schedule Reminder, indication that patient has been called for consultation etc.
SIMPLIFIES SCHEDULING
Co-operates with your calendar
No switching between your calendar and BOOKNMEET
Avoid conflicting bookings
Automatically sync appointments to your calendar
Be in control of your appointments with Premium BOOKNMEET

See who is missing at first sight
Send automatic or manual reminders
Demand additional information such as e-mail address or phone number.
GOOGLE VERIFIED MESSAGING
We care about the security of your mobile devices. To protect the customers from scammers and frauds, our Platform communicates only through Google Verified services. BOOKNMEET is a GOOGLE verified Message Partner
INTEGRATIONS HELP YOU WORK HOW YOU WANT TO WORK
Scheduling automation you and your invitees will actually enjoy. Automate your client / affiliates bookings, reschedule, cancellations, reminders (and zero frustration.) Clients can see your real-time calendar availability (day / week/ month views), self-select the time that works best for them, and easily book (slot) their own appointments in advance, sparing you 95% of current headaches, mix-ups & grunts of frustration.
Ironclad calendar coordination: Never let another client fall through the cracks, miss a beat, or lose a booking. Get notified any time a new appointment is booked, check your schedule right from your phone, and even tell BOOKNMEET to automatically update the calendars you already use., like Google, Outlook, iCal or Office 365.
GOOGLE AMP DYNAMIC EMAIL
Increased Customer engagement is by targeted personalization through dynamic email communication with best efforts to personalize health tech enabling communication channel of BOOKNMEET for scheduling, feedback etc..
One of the key ingredients of omnichannel personalization is the adaptive content ( actions occurring within EMail Interface ), which facilitates personalized interactions across various modules to attract a customer and foster brand loyalty with a much deeper level of personalization.
Appointment Management
VIRTUAL CONSULTATION
ONLINE PRESCRIPTION
INVOICE
PROACTIVE FEEDBACK
HEALTH PACKAGES
VACCINATION REMINDER
IMMUNIZATION SCHEDULE
CLINICAL PROCEDURE SCHEDULING
Demographic Data
Facility Scheduling
Multi-Location
No-Show Tracking
On Call Scheduling
Patient Scheduling
Physician Scheduling
Practice Management
Recurring Appointments
Reminders
Custom URL
Self Service Portal
Staff Scheduling
Automate patient queuing.
Automate service flow.
Shorter wait times.
Clear navigation.
Delivers real-time information